Jonathan Gomez: Concept Development, Art Direction, & Prototyping (GUI)
Bin Gao: Visual Design & Prototyping (wireframes, mockups)
Christina Stork: Research & Prototyping (icon design, layout composition)
In this project our team was tasked with the goal of reimagining how an email user interface could look and function.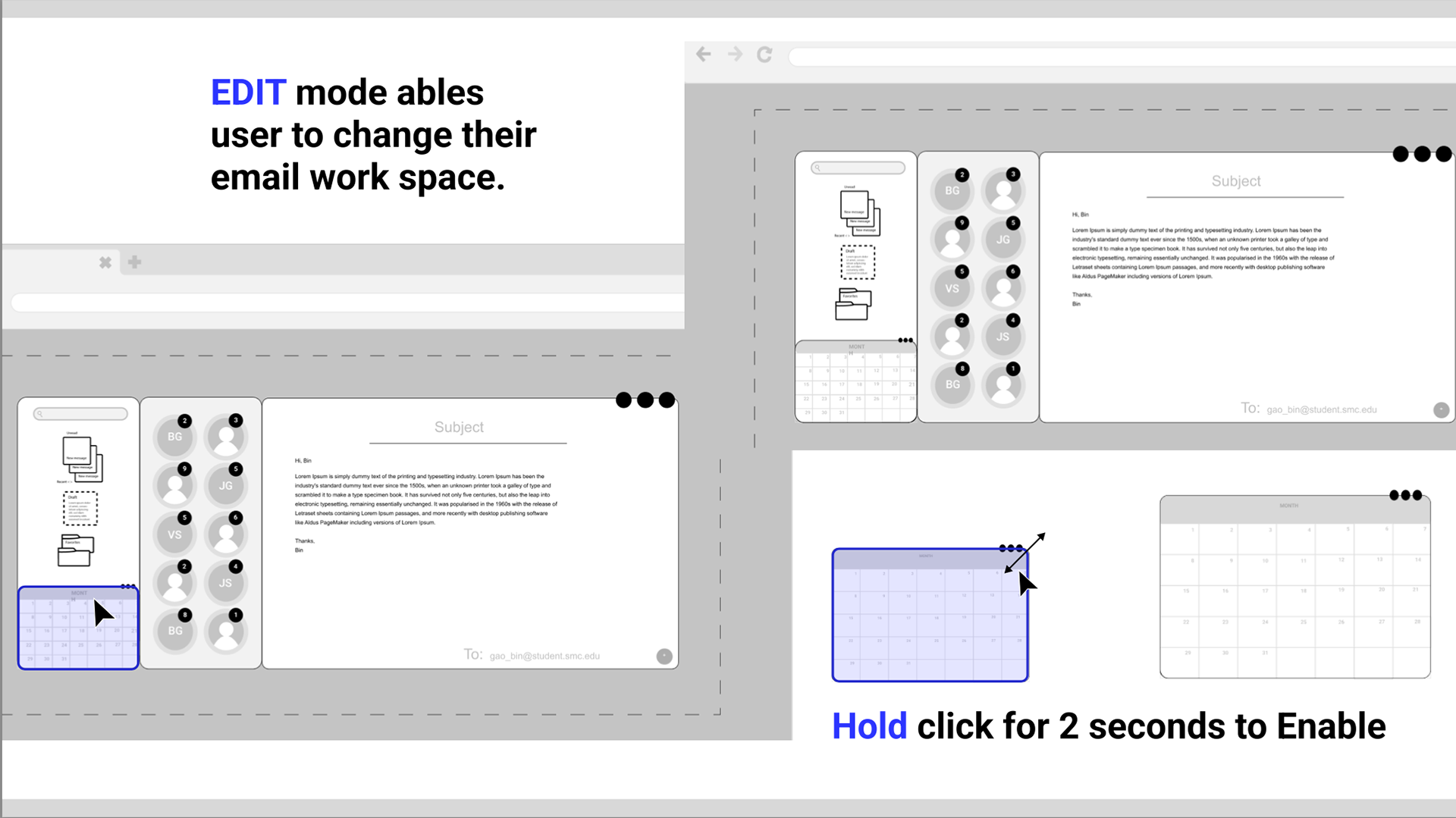 Problem: How could the interactions that we have with email clients be improved to be more enjoyable and easier to use? 
Insight:
Among the commonly used email clients each has successes and areas of improvement. People want something simplicity and customizable. 
Solution: The result was a modular email interface. The idea is that the user could include only the elements that they want in their workspace and be able to adjust size and view modes accordingly. In essence, creating something that acts closer to a creative interface like photo or video editing software. Media literacy among the general population has increased to an extent that email interfaces should shift to a more malleable platform.  
Our team conducted a competitive analysis of existing email clients including Gmail, Proton Mail, Outlook, and Apple Mail. We then followed with a SWAT analysis which identified reoccurring user needs for minimal aesthetics, less options and yet an ability to add features and customize the layout.   
This project was design sprint, so we relied on secondary research and testing within the team we developed the concept through several experimentations in visualizing the layout. 
The goal was to make this an email client that anyone would want to use without much to change to it and at the same time allow for the components to be modular. So, began to create lo-fi prototypes in which each component (say, calendar, inbox, search, etc) was 'flexible' and we began to see noticed that our research pointed towards the idea of 'adaptive boxes'. In this way, we centered our concept modularity which in turn informed the creative nature of this process and end result. 
The deliverable prototype was an instantiation of the default interface. Each separate element is delineated within its own box. These include inbox, contacts, calendar, and view message or compose field. They are minimalistic in style. Users would be introduced with a tutorial in which edges are highlighted to indicate how boxes could be resized and view changed. 
The tutorial simulation depicts boxes being selected, highlighted and dragged to another area of the screen resulting in automatic resizing of that box and other boxes according to the layout other boxes. The idea here was to show the user that they don't have to experience their email interface in a way that doesn't suite them.   
By creating an email client that allows users to interact through modular components, my team and I created something truly unique. I was very proud of the animation I created in Adobe Animate demonstrating how the rearranging of components would look. And therefore, the idea that this visualization conveyed. The next phase of this project would be to create an interactive prototype that could be tested by users. Through user testing this concept could be implemented as viable product and at the very least an insightful case study on creative approaches in user experience.